New Release
08/18/2022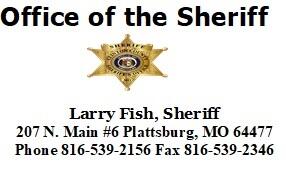 PRESS RELEASE 08-18-2022
REF: Homicide Investigation
On 08-17-22 at 6:17pm, Clinton County Sheriff's Office Communications Center received a 911 call of a male victim with apparent gunshot wound at a residence outside the village of Turney.
Lathrop Fire, Tri-County EMS and Deputies were dispatched to the scene where it was determined the victim, Joshua Galloway, 34 year old male from Turney died from his injuries and was pronounced at the scene by Clinton County Coroner Lee Hanks.
A suspect was quickly developed from eye witnesses at the scene and a broadcast went out to area law enforcement agencies. Within 2 hours, the Clay County Sheriff's Office had the suspect in custody at a residence in the area of 108th and Cookingham in Kansas City, MO.
The suspect is identified as Brayden M. Holloway of Kansas City Missouri who was charged by Clinton County Prosecutor Brandi McClain with 1 count of Murder 2nd Degree and 1 count of Armed Criminal Action.
A warrant was issued by Clinton County Associate Judge Teresa Bingham, setting a bond for Holloway at $250,000 cash only.
The case was investigated and assisted by Cameron and Lathrop Police Departments, Missouri State Highway Patrol Division of Drug Crime and Control, ATF and Clay County Sheriff's Office.
This investigation is ongoing as to the motive and any further information will be released at a later time.
Larry Fish, Sheriff